Hop Conference with Stan Hieronymus/Conférence d'Houblon avec Stan Hieronymus
January 25, 2020 @ 10:00 am

-

2:00 pm

$25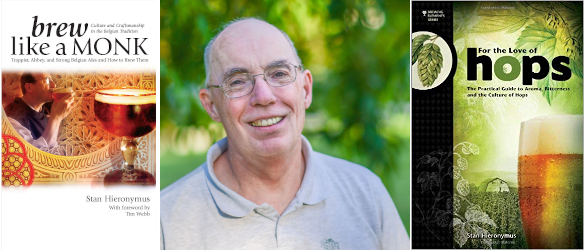 The MontreAlers Homebrew Club is excited to announce the 2020 Hop Conference, Saturday January 25th. This conference will be headlined by none other than Stan Hieronymus, author of For the Love of Hops, Appellation Beer blog, and the "Hop Queries" newsletter amongst other great brewing writings.  The conference will include sessions by Alexandre Bastien on local hop growing and usage, a Q&A with some of your favorite hop-forward Quebec brewers, and of course a talk by the hop-saturated Mr. Hieronymus highlighting hop oils, blending for aroma and flavor, and biotransformation.
The conference will run from 10 a.m. to 2 p.m. at Avant Garde Artisan Brasseurs in the Hochelaga quartier of Montreal.  A pizza lunch will also be provided. Tickets are on sale now for $25 until capacity is reached!
—
Le Club de Brasseurs Amateur MontreAlers est heureux d'annoncer la Conférence d'Houblon 2020, le samedi 25 janvier. Cette conférence sera animée par Stan Hieronymus, auteur « For the Love of Hops », du blog « Appellation Beer » et de la lettre d'information « Hop Queries », entre autres grands écrits sur la brasserie. La conférence comprendra des séances avec Alexandre Bastien sur la culture et l'utilisation du houblon local, une séance de questions-réponses avec certains de vos brasseurs québécois préférés et, bien sûr, un exposé de M. Hieronymus, saturé en houblon, soulignant huiles de houblon, mélange pour l'arôme et la saveur, et biotransformation.
La conférence se déroulera à partir de 10h. à 14 heures à Avant Garde Artisan Brasseurs dans le quartier Hochelaga de Montréal. Un lunch de pizza sera également fourni. Les billets sont en vente maintenant pour 25$ jusqu'à ce que la capacité soit atteinte!