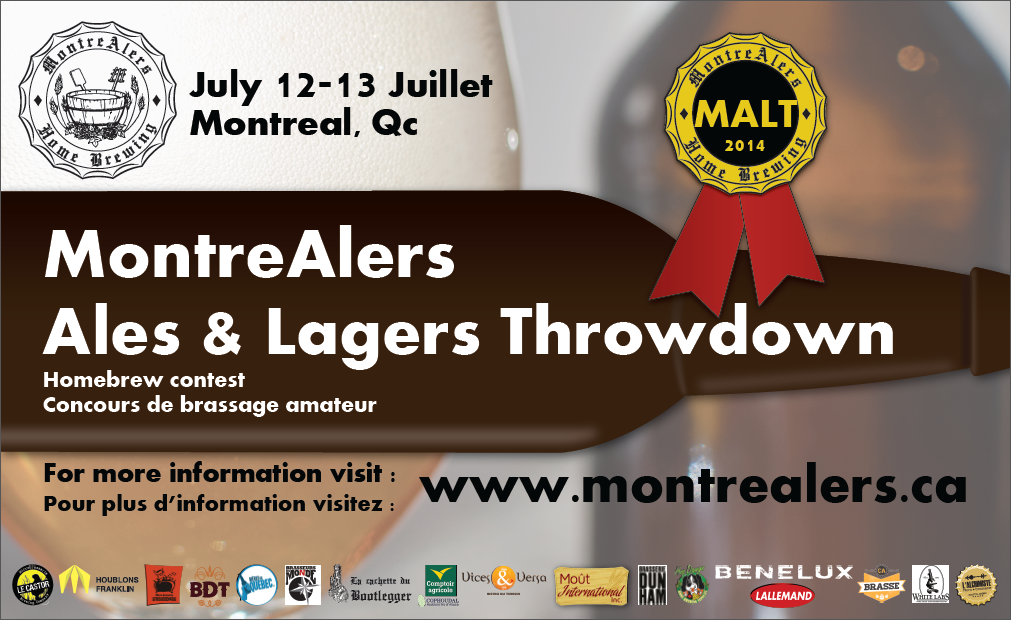 Thanks to all the participants, the judges, the volunteers, and our sponsors!
The MontreAlers Homebrewing Club is happy to announce that their annual BJCP-sanctioned MontreAlers' Ales and Lagers Throwdown (M.A.L.T.) homebrewing competition is July 12-13, 2014!
This year's competition, part of the BrewerOfTheYear.com circuit, will be accepting all lagers and ales from the BJCP style-guide and winners will take home some amazing prizes from our generous sponsors. The Best of Show winner will not only walk away with a shiny medal to show off to friends but will also have the chance to have the winning recipe brewed at Benelux Verdun (Montreal, QC)!
BEST OF SHOW
| | | | | |
| --- | --- | --- | --- | --- |
| Pl. | Brewer(s) | Entry Name | Style | Club |
| GOLD | Duncan Rodger | SYNCRETIK DISDAIN | Belgian Specialty Ale | Free Association of Drunken Astronauts |
Category 01: Light Lager (8 entries)
| | | | | |
| --- | --- | --- | --- | --- |
| Pl. | Brewer(s) | Entry Name | Style | Club |
| GOLD | Chris Nowlan | Helles | Munich Helles | Cowtown Yeast Wranglers |
| SILVER | David Shaykewich | Dort | Dortmunder Export | BrewVIC |
| BRONZE | Geordan Saunders | Flip Cup | Premium American Lager | KABOB |
Category 02: Pilsner (7 entries)
| | | | | |
| --- | --- | --- | --- | --- |
| Pl. | Brewer(s) | Entry Name | Style | Club |
| GOLD | Lee Hillman | Natursekt | German Pilsner (Pils) | Cowtown Yeast Wranglers |
| SILVER | Jonas Hurtig | Balcony Bopil | Bohemian Pilsener | Cowtown Yeast Wranglers |
| BRONZE | David Shaykewich | BoPils | Bohemian Pilsener | BrewVIC |
Category 03: Euro Amber / Dark Lager (10 entries)
| | | | | |
| --- | --- | --- | --- | --- |
| Pl. | Brewer(s) | Entry Name | Style | Club |
| GOLD | Geordan Saunders | Shitshow | Schwarzbier | KABOB |
| SILVER | Eric Cousineau | Vienna Lager | Vienna Lager | GTA Brews |
| BRONZE | Chris Bourdages | Black Gold | Schwarzbier | Durham Homebrewers Club |
Category 05: Bock (10 entries)
| | | | | |
| --- | --- | --- | --- | --- |
| Pl. | Brewer(s) | Entry Name | Style | Club |
| GOLD | Yves Pinet | Insidieuse | Traditional Bock | |
| SILVER | Patrick Sylvestre | Frosted Flakes Bock | Eisbock | MontreAlers |
| BRONZE | Eric Cousineau | Ruby's Doppelbock | Doppelbock | GTA Brews |
Category 06 (A, B, & C): Cream, Blonde, and Kolsch (11 entries)
| | | | | |
| --- | --- | --- | --- | --- |
| Pl. | Brewer(s) | Entry Name | Style | Club |
| GOLD | Mark Pennell | Poolside Blonde | Blonde Ale | Brewnosers |
| SILVER | Glen Marshall | Solstice Ale | Kolsch | VanBrewers |
| BRONZE | Charles Gagne | German Kolsch | Kolsch | |
Category 06D & 07: American Wheat/Rye & Amber Hybrid (10 entries)
| | | | | |
| --- | --- | --- | --- | --- |
| Pl. | Brewer(s) | Entry Name | Style | Club |
| GOLD | Ludovic Goix | La Blanche De La Riviere Jaune | American Wheat or Rye Beer | MontreAlers |
| SILVER | Jason Newton | Newtonian American Rye | American Wheat or Rye Beer | Vanbrewers |
| BRONZE | Robert Doerksen | Holz Haven Altbier | Dusseldorf Altbier | Cowtown Yeast Wranglers |
Category 08 (A&B): Standard and Special Bitter (8 entries)
| | | | | |
| --- | --- | --- | --- | --- |
| Pl. | Brewer(s) | Entry Name | Style | Club |
| GOLD | Josh Davis | Slap And Tickle Best Bitter | Special/Best/Premium Bitter | |
| SILVER | Christian Roberge | Ti-Bask | Standard/Ordinary Bitter | MontreAlers |
| BRONZE | Andrew Martin | Special Bitter | Special/Best/Premium Bitter | Brewnosers |
Category 08 (C) & 14 (A): ESB & English IPA (8 entries)
| | | | | |
| --- | --- | --- | --- | --- |
| Pl. | Brewer(s) | Entry Name | Style | Club |
| GOLD | Paul Brennan | Nelsons ESB | Extra Special/Strong Bitter (English Pale Ale) | |
| SILVER | Mark Mullkoff | Bardz-Esq Ringwood Pale Ale | English IPA | |
| BRONZE | Patrick Sylvestre | Back 2 School | English IPA | MontreAlers |
Category 09 (B&E) & 19: Scottish Heavy, Strong Scotch, & Strong Ale (7 entries)
| | | | | |
| --- | --- | --- | --- | --- |
| Pl. | Brewer(s) | Entry Name | Style | Club |
| GOLD | Lee Hillman | Bigfoot's Sister | American Barleywine | Cowtown Yeast Wranglers |
| SILVER | Jean-Simon Fortin | Hail To The Prince! | English Barleywine | |
| BRONZE | Chris Bourdages | Great Scott! | Scottish Heavy 70/- | Durham Homebrewers Club |
| HM | Vin Naylor | It's Not Barley | English Barleywine | MontreAlers |
Category 10: American Ale (22 entries)
| | | | | |
| --- | --- | --- | --- | --- |
| Pl. | Brewer(s) | Entry Name | Style | Club |
| GOLD | Jonas Hurtig | P.D. Pale Ale | American Pale Ale | Cowtown Yeast Wranglers |
| SILVER | Kent Courtice | The Deluxe | American Pale Ale | VanBrewers |
| BRONZE | Peter Christensen | APA | American Pale Ale | MontreAlers |
| HM | Stephane Hamel | Graffiti | American Amber Ale | |
Category 11: English Brown Ale (10 entries)
| | | | | |
| --- | --- | --- | --- | --- |
| Pl. | Brewer(s) | Entry Name | Style | Club |
| GOLD | Marc Dobrescu | Bender's Oil | Northern English Brown Ale | MontreAlers |
| SILVER | David Freeman | Timid Turtle | Mild | ALES Club |
| BRONZE | Jean-Simon Fortin | Bold & Peculiar | Northern English Brown Ale | |
Category 12 (A&C): Brown and Baltic Porter (9 entries)
| | | | | |
| --- | --- | --- | --- | --- |
| Pl. | Brewer(s) | Entry Name | Style | Club |
| GOLD | Jonathan Voyer | Baltic Porter | Baltic Porter | |
| SILVER | Patrick Sylvestre | Mb | Brown Porter | MontreAlers |
| BRONZE | Jason Newton | Newtonian Baltic Porter | Baltic Porter | Vanbrewers |
| HM | Paul Brennan | Brown Porter | Brown Porter | MontreAlers |
Category 12 (B): Robust Porter (7 entries)
| | | | | |
| --- | --- | --- | --- | --- |
| Pl. | Brewer(s) | Entry Name | Style | Club |
| GOLD | Greg Zeniuk | The Portly Porter | Robust Porter | Edmonton Homebrewers Guild |
| SILVER | Eric Cousineau | Robust Porter | Robust Porter | GTA Brews |
| BRONZE | Stephane Hamel | Public | Robust Porter | |
Category 13 (A, B, & D): Dry, Sweet, and Foreign Extra Stout (7 entries)
| | | | | |
| --- | --- | --- | --- | --- |
| Pl. | Brewer(s) | Entry Name | Style | Club |
| GOLD | PJ Rochon | Noir Comme Chez Le Y'able | Dry Stout | |
| SILVER | Chris Bourdages | Sweetened Espresso | Sweet Stout | Durham Homebrewers Club |
| BRONZE | Patrick Filion | L'onyx | Sweet Stout | |
Category 13 (C & E): Oatmeal & American Stout (9 entries)
| | | | | |
| --- | --- | --- | --- | --- |
| Pl. | Brewer(s) | Entry Name | Style | Club |
| GOLD | Marc Dobrescu | Operating System | Oatmeal Stout | MontreAlers |
| SILVER | Greg Zeniuk | Stove Pipe Stout | American Stout | Edmonton Homebrewers Guild |
| BRONZE | Leon Racine | Sixty-Six | Oatmeal Stout | |
| HM | Eric Beaulieu | Sombre Desir | Oatmeal Stout | |
Category 13 (F): Russian Imperial Stout (8 entries)
| | | | | |
| --- | --- | --- | --- | --- |
| Pl. | Brewer(s) | Entry Name | Style | Club |
| GOLD | Maxime Ducharme | La Mercure Des Sages | Imperial Stout | |
| SILVER | Keegan Link | Ovcharka | Imperial Stout | MontreAlers |
| BRONZE | Alexandre Bourget | Pouvoir Polarise | Imperial Stout | |
Category 14 (B): American IPA (24 entries)
| | | | | |
| --- | --- | --- | --- | --- |
| Pl. | Brewer(s) | Entry Name | Style | Club |
| GOLD | Sebastien Gagne | Drink Like Teen Spirit | American IPA | |
| SILVER | Christian Roberge | Forsta IPA | American IPA | MontreAlers |
| BRONZE | Glen Marshall | Badlands IPA | American IPA | VanBrewers |
Category 14 (C): Imperial IPA (9 entries)
| | | | | |
| --- | --- | --- | --- | --- |
| Pl. | Brewer(s) | Entry Name | Style | Club |
| GOLD | Kent Courtice | Twenty-One | Imperial IPA | VanBrewers |
| SILVER | John Henley | Lupulin Monster Of Lake Ontario | Imperial IPA | Durham Homebrewers Club |
| BRONZE | Philip Young | Eagle Eye | Imperial IPA | Lortie & Young |
Category 15 (A): Weizen/Weissbier (7 entries)
| | | | | |
| --- | --- | --- | --- | --- |
| Pl. | Brewer(s) | Entry Name | Style | Club |
| GOLD | Alexander Kaul | Olie's Heavy Wheat Surprise #3 | Weizen/Weissbier | Cowtown Yeast Wranglers |
| SILVER | Andy Morrisson | Kiki's Weizen | Weizen/Weissbier | Cornwall Homebrew Club |
| BRONZE | Jeff Manol | El Hefe | Weizen/Weissbier | SOB |
| HM | Jason Newton | Newtonian Hefeweizen | Weizen/Weissbier | Vanbrewers |
Category 15 (B&C) – 16 (A): Dunkelweizen, Weizenbock, and Witbier (9 entries)
| | | | | |
| --- | --- | --- | --- | --- |
| Pl. | Brewer(s) | Entry Name | Style | Club |
| GOLD | Marc Dobrescu | A L'Aventure | Weizenbock | MontreAlers |
| SILVER | Gilles Morneau | Blanche De Fabre | Witbier | Brasseurs invités |
| BRONZE | Andrew Martin | Weizenbock | Weizenbock | Brewnosers |
Category 16 (B) & 18 (A&D): Belgian Pale, Blond and Golden Strong Ale (12 entries)
| | | | | |
| --- | --- | --- | --- | --- |
| Pl. | Brewer(s) | Entry Name | Style | Club |
| GOLD | Mathieu Garceau-Tremblay | Poire Pas Poire J'y Vais | Belgian Pale Ale | |
| SILVER | Patrick Filion | La Hubertoise | Belgian Blond Ale | |
| BRONZE | Alexander Kaul | Sledgehammer Strong Ale | Belgian Golden Strong Ale | Cowtown Yeast Wranglers |
Category 16 (C): Saison (10 entries)
| | | | | |
| --- | --- | --- | --- | --- |
| Pl. | Brewer(s) | Entry Name | Style | Club |
| GOLD | Marc Loszchuk | French Saison | Saison | Ale & Lager Enthusiasts of Saskatchewan |
| SILVER | Brendan Cordy | Saison Des Pluies | Saison | |
| BRONZE | John Adair | Superstitious Saison | Saison | VanBrewers |
Category 16 (E): Belgian Specialty Ale (11 entries)
| | | | | |
| --- | --- | --- | --- | --- |
| Pl. | Brewer(s) | Entry Name | Style | Club |
| GOLD | Duncan Rodger | SYNCRETIK DISDAIN | Belgian Specialty Ale | Free Association of Drunken Astronauts |
| SILVER | Chris Bourdages | Patersbier | Belgian Specialty Ale | Durham Homebrewers Club |
| BRONZE | Michael D'Ornellas | T.I.P.A. | Belgian Specialty Ale | |
Category 17: Sour Ale (12 entries)
| | | | | |
| --- | --- | --- | --- | --- |
| Pl. | Brewer(s) | Entry Name | Style | Club |
| GOLD | Rick August | Straight Lambic | Straight (Unblended) Lambic | Ale & Lager Enthusuasts of Saskatchewan |
| SILVER | Darrin Sayers | Pucker Up | Berliner Weisse | Cowtown Yeast Wranglers |
| BRONZE | Benoit Morin | Flanders Red | Flanders Red Ale | MontreAlers |
Category 18 (B&E): Belgian Dubbel and Dark Strong Ale (10 entries)
| | | | | |
| --- | --- | --- | --- | --- |
| Pl. | Brewer(s) | Entry Name | Style | Club |
| GOLD | Yves Pinet | Beguine | Belgian Dark Strong Ale | |
| SILVER | Eric Jourdan | Clown College | Belgian Dark Strong Ale | BrewVic |
| BRONZE | Benoit Morin | Dubbel | Belgian Dubbel | MontreAlers |
Category 18 (C): Belgian Tripel (10 entries)
| | | | | |
| --- | --- | --- | --- | --- |
| Pl. | Brewer(s) | Entry Name | Style | Club |
| GOLD | Chris Nowlan | Tripel II | Belgian Tripel | Cowtown Yeastwranglers |
| SILVER | Gilles Morneau | Triple Sensation | Belgian Tripel | Brasseurs invités |
| BRONZE | Kyle Buchanan | Trouble With Tripels | Belgian Tripel | MoB |
Category 20: Fruit Beer (8 entries)
| | | | | |
| --- | --- | --- | --- | --- |
| Pl. | Brewer(s) | Entry Name | Style | Club |
| GOLD | Kent Courtice | 100% Brett Pineapple | Fruit Beer | VanBrewers |
| SILVER | Greg Zeniuk | Rasp-N-Tart | Fruit Beer | Edmonton Homebrewers Guild |
| BRONZE | Shaun Staples | Mating Saison | Fruit Beer | GTA Brews |
Category 21 (A): Spice, Herb, Vegetable (8 entries)
| | | | | |
| --- | --- | --- | --- | --- |
| Pl. | Brewer(s) | Entry Name | Style | Club |
| GOLD | Parker & Fleesha Willfong | Gilligan's Radio | Spice, Herb, or VegeCategory Beer | ALES |
| SILVER | Robert Welch | Freedom. Freedom! FREEDOM!!! | Spice, Herb, or VegeCategory Beer | |
| BRONZE | Andrew Stevens | Morning Wood | Spice, Herb, or VegeCategory Beer | MontreAlers |
Category 21 (B) – 23: Christmas/Winter & Specialty Ale (22 entries)
| | | | | |
| --- | --- | --- | --- | --- |
| Pl. | Brewer(s) | Entry Name | Style | Club |
| GOLD | Darryl Shelton | Coast Range | Specialty Beer | |
| SILVER | Evan Stewart | 2269 Frost Avenue | Specialty Beer | |
| BRONZE | Andrew Stevens | Morning Wood | Specialty Beer | MontreAlers |
Category 22 (A&B): Classic Rauchbier and Other Smoked (8 entries)
| | | | | |
| --- | --- | --- | --- | --- |
| Pl. | Brewer(s) | Entry Name | Style | Club |
| GOLD | Yves Pinet | Fidele | Classic Rauchbier | |
| SILVER | Greg Zeniuk | 2 Stroke Smoke | Other Smoked Beer | Edmonton Homebrewers Guild |
Category 22 (C): Wood-aged Beer (8 entries)
| | | | | |
| --- | --- | --- | --- | --- |
| Pl. | Brewer(s) | Entry Name | Style | Club |
| GOLD | Chris Nowlan | Barrel Aged Oatmeal Stout | Wood-Aged Beer | Cowtown Yeast Wranglers |