IronAler 2019
November 2, 2019 @ 18:00

-

23:00

$25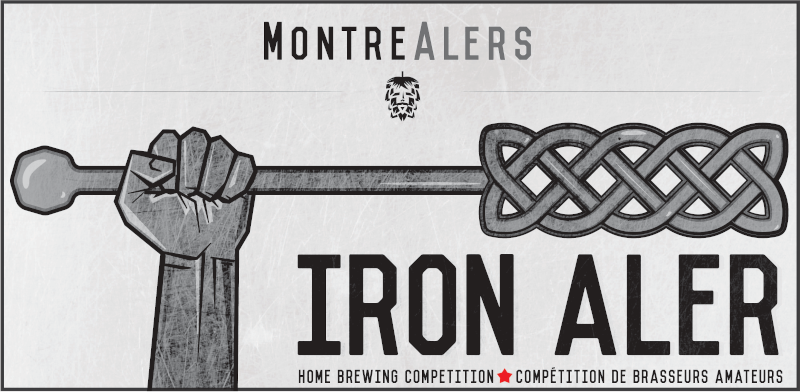 Le Club des Montrealers organise un gala et une soirée de dégustation, le samedi 2 novembre prochain, pour clore sa compétition Christopher Needelman Memorial IronAler 2019. Les 25 équipes participantes seront sur place pour présenter et servir un échantillon de leurs bières, toutes brassées avec les mêmes ingrédients.
Les bières seront jugées par un jury composé de brasseurs maison et de juges d'expérience. Le public participera également à juger les bières de la compétition. Nous espérons donc que vous serez présents pour goûter d'excellentes bières, mais aussi pour apprendre des brasseurs participants qui expliqueront leur procédé de brassage. Aucune expérience comme juge n'est requise. Si vous n'avez jamais jugé des bières auparavant, c'est une bonne occasion de vous lancer. Le seul prérequis : aimez boire de la bière!
Votre don de 25 $ vous recevrez un verre de dégustation, un formulaire pour juger les bières ainsi que nos remerciements pour votre contribution à l'événement. Les brasseurs vous offriront des échantillons de leurs bières gratuitement. Enplus, vous devenez membre non votant des MontreAlers.
Des articles à l'effigie du club et de l'événement seront en vente. Vous pourrez aussi acheter des grignotines sur place.
Nous espérons que vous viendrez en grand nombre pour encourager nos participants, pour goûter des bonnes bières et pour soutenir le club des MontreAlers. Une soirée abracadabrante en perspective ! Invitez vos amis à se joindre à vous. Le nombre de participants étant limité, achetez vos billets maintenant.
Détails de l'événement :
Samedi, le 2 novembre @ 18:00
8 rue Queen, Montréal, Québec, H3C 2N6
***************************
The MontreAlers Homebrewing Club is holding the tasting night and awards gala for its Christopher Needelman Memorial IronAler 2019 competition on Saturday, November 2, 2019. Twenty-five teams will be on hand to present and serve samples of their beer, all made from the same ingredient list.
The beers will be judged by a panel of craft brewers and experienced judges, but the public will also play a big part, so we hope you'll join us to taste and judge some great beer and learn from the different brewers as they talk about their processes. No judging experience is necessary – in fact, if you've never judged before, this is a great chance to give it a shot. The only prerequisite is that you enjoy drinking beer.
For the donation of $25 you'll receive a tasting glass, judging forms, and our thanks for helping cover our costs. The brewers will be providing samples at no charge. As well, you will become a patron of the brew, a non-voting member of the MontreAlers Homebrew Club.
Club and competition-themed merchandise will be on hand for sale. You can also purchase snacks on-site.
We hope you'll come out to cheer on the competitors, taste some great beer, and support the MontreAlers. And be sure to tell your friends. It's going to be a zany, fun-filled evening. Spaces are limited, so get your tickets right away!
Event details:
Saturday, November 2 @ 6:00pm
8 rue Queen, Montréal, Québec, H3C 2N6